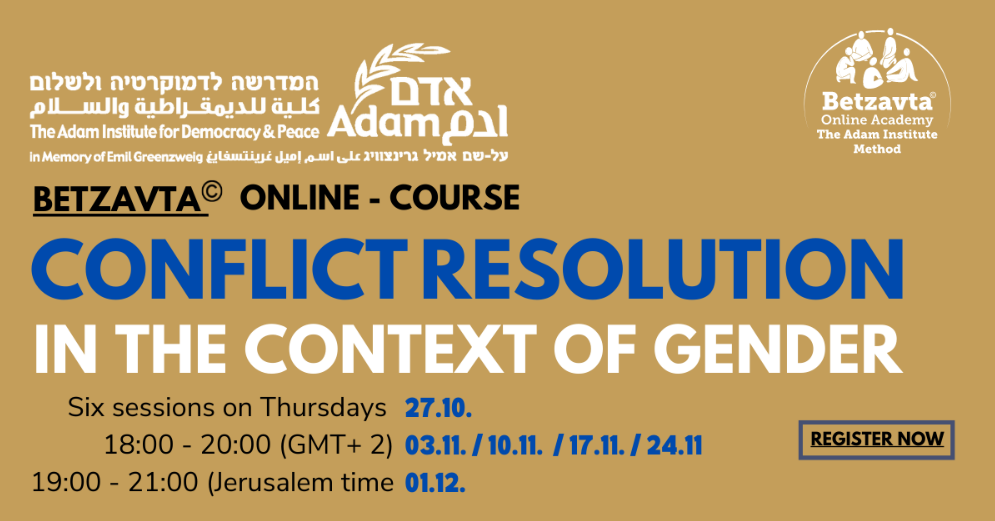 Conflict resolution models have been primarily crafted and codified by men.
Its theorists. Perspectives. Approaches.
Few and far between are the models that have been fashioned by women.
The Adam Institute for Democracy and Peace invites you to be part of that much-needed change through an experiential and innovative Online Course  "Conflict Resolution in the Context of Gender".
NEW TOPICS COVERED!!
Suited also to graduates of similar Adam Institute "Betzavta" courses.
Join participants who've already registered from Turkey, Germany, Spain, England, Israel & Holland to explore:
Do conflict resolution models address women's needs?
Do win-win solutions adequately consider women's perspective/approach?
Should conflict resolution focus on rights/needs?
Which mediation theory best suits women: business, therapy, civil society?
Does women`s participation yield more sustainable solutions?
Reconciliation and conflict resolution from the perspective of gender
The course will be taught over six meetings on Thursdays:
October 27th  November 3rd / 10th / 17th /24th  December 1st
18:00 – 20:00 (GMT+2)    19:00 – 21:00 (Jerusalem time)
Secure your spot TODAY via this registration
https://forms.gle/4DBiPjwaf7MwkQfy7.
Course fees
100-200€ – Reduced |  200-300€ – Regular | 300+€ – Solidarity
Please feel free to invite colleagues and friends to join us.
Course details can be found here.
See you online!
Best wishes,
The Adam Institute Team
For more information please email: info@adaminstitute.org.il, Ruth Ebenstein: ruthebenstein@gmail.com
The Adam Institute is an Israeli non-profit NGO registered under Israeli law (No.580115441) as a public institute for donations (under Section 46 of the Israeli Income Tax Ordinance). Every donation is tax-deductible.
Donations are tax-deductible for US donors 
Donations made via PEF, Israel Endowment Funds, Inc.