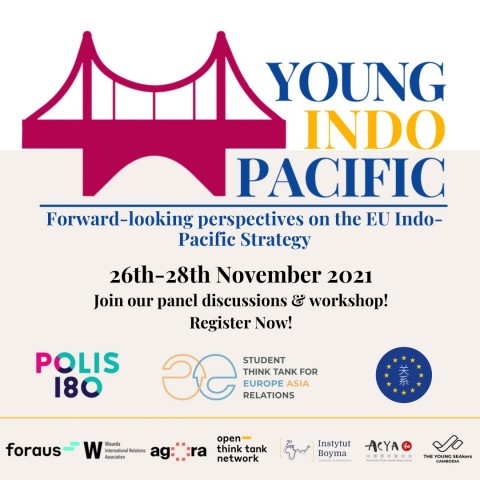 The Boym Institute, working with other think tanks, organizes panel discussions on topics related to the European Union's Indo-Pacific strategy – Young Indo-Pacific: Forward-looking perspectives on the EU Indo-Pacific Strategy.
In this event, the three organizing think tanks – Polis180, European Guanxi and STEAR -, with support from Agora, Foraus, Boyma Institut, Australia China Youth Association, Waseda IR Association, The Young SEAkers and the Open ThinkTank Network, will host multiple panel discussions on topics regarding the European Union's Indo-Pacific Strategy. If you want to know more about the EU Indo-Pacific Strategy make sure to read our introduction article.
The aim of the conference is to create a dialogue on the newly announced strategy of the European Union, to promote a broader understanding of the EU's interactions with the Indo-Pacific region, and to look ahead at the direction in which key relationships between the EU and Indo-Pacific states and stakeholders will go. Moreover, we want to give students and young professionals from both regions a voice in international politics and foster a new platform for enhanced Asia-Europe cooperation.
Date and time of the panels: 
Friday, 26. November:
9.00 -10.30 – Human Rights and Migration
Jyotika Kalra (Member of the National Human Rights Commission of India)

Julian Burnside (Australian Human Rights Lawyer and Activist)

Klaus Dik Nielsen (Stakeholder Liaison, (Consultant), Office of the High Commissioner for Human Rights, Regional Office for South-East Asia (Migration and Human Rights)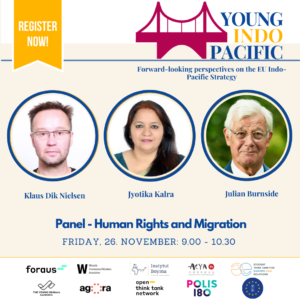 10.30 – 11.30 – In conversation with Naoyuki Yoshino (Dean of the Asian Development Bank Institute, Professor emeritus of Keio University, Tokyo) – Financial collaboration between Europe and Indo-Pacific in regard to Green finance (30 minute presentation followed by Q&A)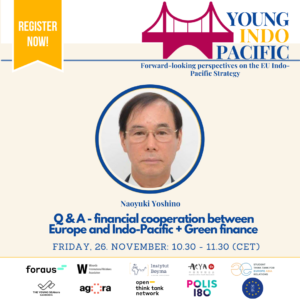 11.30 – 13.00  – Trade and Beyond
Xin Yuan (Representative to Europe at Shenzhen European Office)

Prof. Damian Raess (SNSF Professor at the World Trade Institute) 

Mandakini Kaul (Senior Regional Cooperation Officer for South Asia at the World Bank in New Delhi)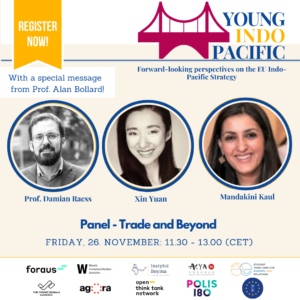 20:00 – 20:45 – In conversation with Alan Bollard (Professor of Practice at the School of Government, Wellington School of Business and Government and chairman of the New Zealand Infrastructure Commission) (TBC)
Saturday, 27. November:
9.30 – 11.00 – Security and Geopolitics
Prof. Harsh Pant (Professor of International Relations at King's College London India Institute)

Cristina de Esperanza Picardo (Joint PhD student at King's College London and the National University of Singapore)

Theresa Fallon (Founder and director of the Centre for Russia Europe Asia Studies and a member of the Council for Security Cooperation in the Asia-Pacific)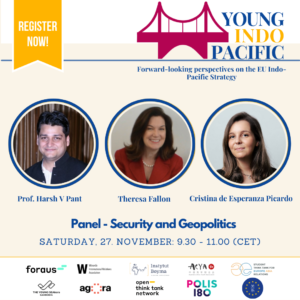 11.00 – 12.30 – Climate Change and Green Recovery
Summer Chen (Climate Change Specialist at ERM, Former Head of Energy and Environment (East China) for the UK Foreign Commonwealth Office)

Prof. Dhanasree Jayaram (Assistant Professor, Department of Geopolitics and International Relations, and Co-coordinator, Centre for Climate Studies, Manipal Academy of Higher Education (MAHE), Karnataka, India)

Matthew MacGeoch (Transition Finance Analyst in the Market Intelligence Team at the Climate Bonds Initiative)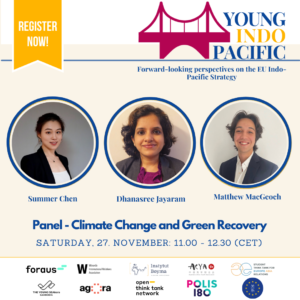 12.30 – 14.00 – Technology and Digitization
Nigel Inkster (Senior Adviser for Cyber Security and China at the IISS and former assistant chief and director of operations and intelligence for the British Secret Intelligence Service)

Prof. Stéphanie Balme (Dean of Sciences Po College, Professor at PSIA and Research Director at CERI)

Sylwia Czubkowska (Journalist and a chief editor at the Polish service Spider's Web)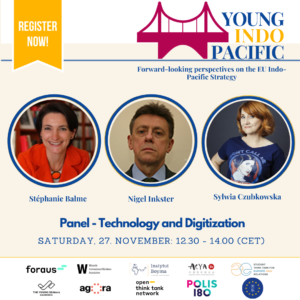 14:00 – 15.00 – Networking Session
Sunday, 28. November:
11.00 – 14:00 – Workshop on drafting communique
The goal of the workshop is for participants to collect opinions and brainstorm ideas based on the issue areas discussed, culminating in a joint communique which will be issued by our organisations and presented to EU policymakers in December 2021/January 2022. 
You can registrate for the event HERE.