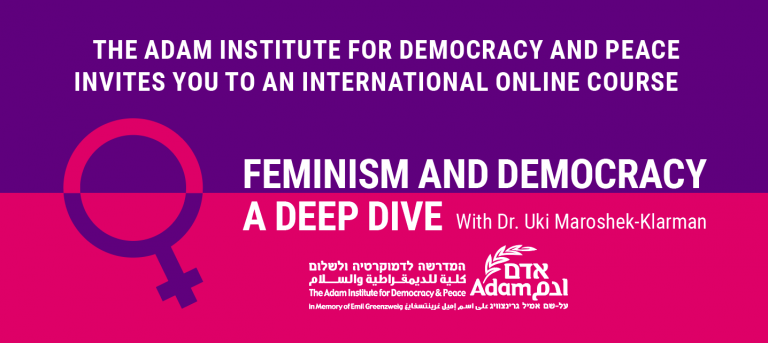 Invitation to an international Online Course:
"Feminism and Democracy: a Deep Dive"
With Dr. Uki Maroshek-Klarman
Due to popular demand, the Adam Institute has opened "Feminism and Democracy: A Deep Dive" (continuation to "Feminism and Democracy" course)
The course comprises 6 two-hour sessions in English that will be held on the following Thursdays in April and May:
April 22, 29 May 13,20, 27, June 3
TIME: 18.30- 20.30 CET; 19.30-21.30 JERUSALEM time
While the Feminist Revolution has scored many achievements, the path to gender equality has a long way to go. This course is the Adam Institute's modest contribution to thinking about how to move the needle towards gender equality. It will touch upon these topics:
Feminism and morality
Feminism and law
Gender and violence
#MeToo: Feminist methods of struggle
What kinds of democratic models can be developed by feminist women?
The course will be taught via interactive workshops, employing the Adam Institute's signature "Betzavta – the Adam Institute's Facilitation Method", taught by its creator, Dr. Uki Maroshek-Klarman. The award-winning "Betzavta" method is rooted in an empirical approach to civic education, interpersonal communication and conflict resolution. The course allows for vibrancy, excitement and emotional verve in the virtual classroom.
Participants will receive a certificate upon course completion. This certificate allows "Betzavta" training graduate to facilitate this course to other groups; for new to our innovative method, this course provides a window into the subject matter and process. One can join our group facilitation courses taught around the world in various countries and languages, including English, Arabic, Hebrew, German and Polish.
Cost:
The cost range for a six-session package:
100 (minimum)/250/350/other (over 100) Euros or 125/310/430 US dollars
The pricing scale is intended to make this more affordable.
If you cannot pay the proposed course fee, please let us know what you can financially contribute. We don't want monetary reasons to be a cause for exclusion.  If you can pay a higher fee, we greatly appreciate that generosity.
Payment invoice will be sent after registration; please confirm to pay in full within 7 days upon receipt of the invoice. Details on transferring payment will be sent along with the invoice. Upon payment, a digital receipt will be provided.
REGISTER TODAY
We kindly ask you to register in English (if possible) via this Google form link:
https://forms.gle/7h3WmaNLtVGmtgfs8
If you prefer, you can email Ruth Ebenstein, Director of Communications & Resource Development: info@adaminstitute.org.il and ruth@adaminstitute.org.il 
With the following information:
Your name, address and email
Your experience in facilitating groups in general and any particular experience in the "Betzavta" method (no prerequisite for course participation)
The amount you can pay
For more information please contact us: info@adaminstitute.org.il