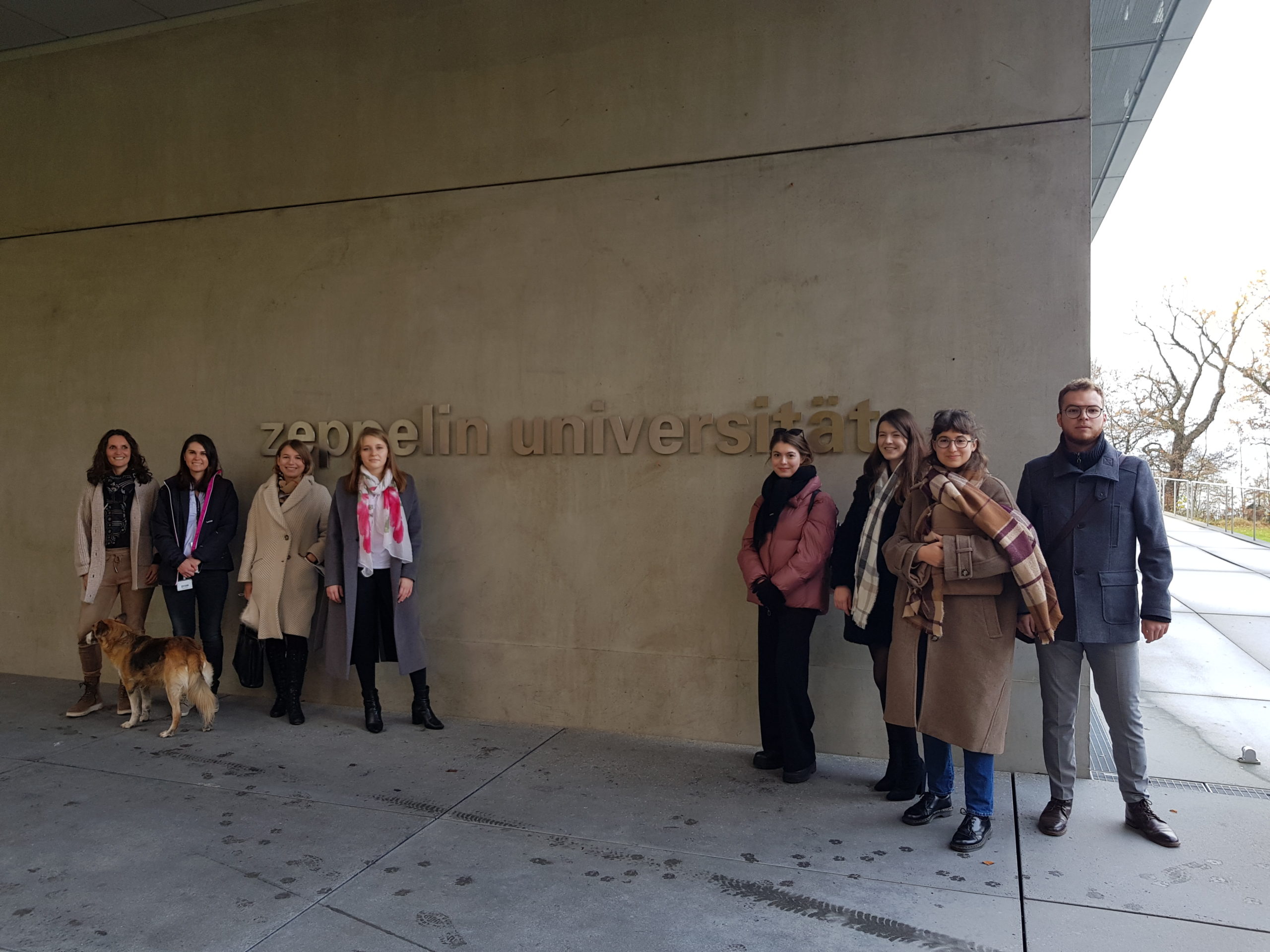 This year's research project TSRG 2021 as a collaborative initiative between Leadership Excellence Institute Zeppelin and the Boym Institute continued with a Transcultural Winter School in Zeppelin University, in Friedrichshafen. It took place between 8th and 12th November. The trip included a series of valuable workshops that were useful not only for the current project but also for the student's future academic work. Of course, we should also mention the Transcultural Leadership Summit 2021that took place at that time. It represents an information platform to deepen participants' cultural knowledge and to foster mutual understanding. This year's region, Southeast Asia, represents both opportunities and challenges, and it is gaining increasing importance. The two-day event through keynotes from experts from SEA and workshops brought more attention to the importance of this region.
During the first day, Polish participants were warmly welcomed by the organizers of the transcultural caravan and representatives of LEIZ. They were welcomed and introduced to the Zeppelin University initiative, by Jessica Geraldo Schwengber, Prof Julika Baumann Montecinos and Dr Lennart Brand. Participants also had the chance to attend a workshop led by Dr Christopher Köhler of LEIZ, entitled "Writing a Quantitative/Empirical Paper — (Many) Ways that Lead to Rome". The first meeting ended with a nice conversation over coffee and cake before continuing with a tour of the beautiful SMH Campus of Zeppelin University. At the end of the day, thanks to the perfect weather, the students were able to enjoy the beautiful views of Lake Constance and the Alps.
The next day began early in the morning with a Keynote "ASEAN Cross-Region Cooperation: Mapping the Way Towards Identity Building" given by Prof Dafri Adussalim from ASEAN Studies Centre in Indonesia. The lecture was followed by a workshop about exploring Leadership Concepts, which was organized by Tobias Grünfelder. Another item on the agenda was an insightful workshop "Academic Writing — Book Chapter" given by Dr Dominik Fisher and Jessica Geraldo Schwengber. In the afternoon, the participants had the opportunity to visit the Zeppelin Museum, thus getting to know part of the culture and history of Friedrichshafen. The day ended with an informal gathering for dinner and conversation.
Day three was the last day on the Lake Campus. It started with a Keynote on BRI by Prof. Matthias Niedenführ. Following this great lecture, the part introducing the Transcultural Caravan Network began. It was hosted and introduced by Prof Julika Baumann Montecinos. The welcome speech was presented by Prof Josef Wieland. This was followed by an important virtual toast, a presentation of the TSRG 2021 participants and their contributions to the project. Then book launch of the TSRG 2020 was presented by their authors. The event ended with conversations over coffee and cake while talking with professors and exchanging ideas.
During the last two days, the Transcultural Leadership Summit 2021 took place. On November 11 the event officially started with a welcome by moderator Katharina Körth, an opening speech by Tobias Grünfelder and a Welcome address by Andreas Schell, the CEO at Rolls-Royce Power Systems AG. A series of keynotes on Southeast Asia followed, referring to this year's topic of TLS: "Southeast Asia — Diversity & Digital Disruptions" by Prof Dr Christian von Lübke, "Navigating Culture and Leadership Development in Southeast Asia" given by Adirupa Sengupta, and closing this part of event Prof Josef Wieland, presenting the topic of Mitigating Risk from Cultural Complexity. Then the next part of the panel discussions took place in the following order: "Transculturality in action — How do transcultural leaders operate in Southeast Asia?" with moderator Dr Lennart Brand and speakers: Giovanni Spadaro, Nguyễn Thanh Sơn, Verena Siow; "How to prepare young leaders for cultural complexity?" moderated by Prof Dr Julika Baumann Montecinos and Annika Phuong Dinh, with panel speakers Dr Elizabeth T. Urgel, Dr Nguyen Nam, Dr Wawan Masudi. The event ended with a beautiful Indonesian Dance Performance by Freunde Indonesiens e.V. Polish students also had the opportunity to participate in the Karl Schlecht Forum about "Good Leadership".
The last day of Transcultural Winter School was also the final day of Transcultural Leadership Summit 2021. Participants of the trip were welcomed by Indonesian Music by Freunde Indonesiens e.V., followed by two great keynotes: "Fixing the Leadership Gap in Southeast Asia" given by Vibhas Ratanjee, and "Global Literacies — Leadership Development for Global Executives" presented by Samuel M. Lam. The continuation of the day was divided into two workshop sessions, where participants could choose activities on various aspects of Southeast Asia and leadership. The trip ended with an informal meeting over diner with students and professors of LEIZ, during which participants of TSRG had the opportunity to exchange views, talk and sum up amazing memories that were gathered during TWS 2021.